What do you do professionally?
I currently work as a management consultant for Oliver Wyman.
What is the most enjoyable part of your job?
Helping clients to solve problems and adding value to their business.  We get hired to solve a company's toughest problems so it is always satisfying when we are successful.
What is the biggest challenge you face?
Since I am currently on the road most Mondays through Thursdays my biggest challenge is making sure that I am a good husband and father despite my travel.  I am very intentional about being engaged in family life even when I am away.  I re-arrange my travel schedule when possible to make sure that I am present at the most important family events.  So many people say that family is first but it is not evident in their daily lives.
What is the best professional advice you've received?
Two pieces of advice that I have received stand out–first, focus on your strengths.  Second, do not be afraid to take on the hard, unglamorous assignments that no one wants—especially early in your career.  Being successful in these assignments often pays great dividends later in your professional life.
Aside from your current role, what is your dream job?
Wow, I am so intellectually curious that I do not think that I can pick one dream job, but here are a few things that I would love to do:
1. CFO of a major sports team
2. Chief of Staff for the mayor of a major city, the governor of a state, or even the President of the U.S.
3. Portfolio Manager for one of the investors on the TV show "Shark Tank"
What do you like to do outside of work?
I am an avid Duke basketball fan, so watching Duke games on TV takes up a lot of my time this time of year.  I also try to catch a few games in person every year.  This year I was able to catch 2 games at Cameron–the game vs. Southern University in November with my Fuqua roommate Leo Harmon and the Wake Forest game in January with my Fuqua classmate John Keller.
Speaking of basketball, I am still a regular weekend hoops warrior, and I still play pick up hoops when my schedule permits.  For the last 18 years I have been a member of a group of guys who rent a gym most Saturday mornings to play hoops.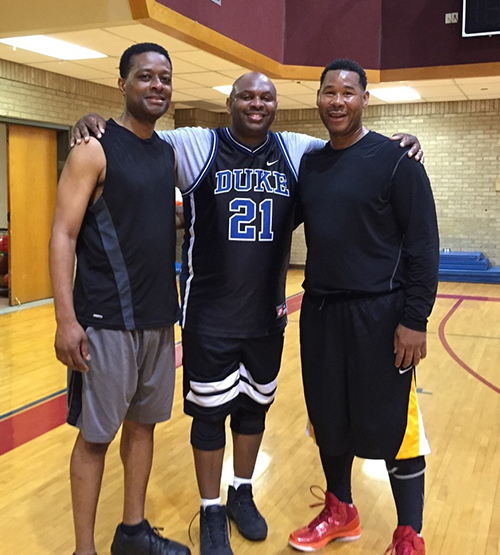 I am also an avid reader.  I sincerely believe that leaders MUST be readers.  My goal is to read one book a week (I'm a little behind this year).
What is the most important thing you learned during your time at Fuqua?
The importance of being well-rounded.  I am very thankful that I attended a business school that focuses on creating well-rounded leaders.  Having a specialty is great, but to be successful in business at the highest levels you must be able to apply that specialty holistically in a manner that maximizes the enterprise.
Who was your favorite professor?
I was blessed to have so many great professors at Fuqua, but Jim Smith and Cam Harvey were probably my two favorites.
What is your favorite Fuqua memory?
I had an awesome two years at Fuqua, but two memories stand out: Watching the Class of 1994 2nd Year women crush the Class of 1995 1st Year women in the Powder Puff Flag Football Game and being selected to open Fuqua Follies 1993—or maybe I was the only person crazy enough to volunteer—I don't remember.
Why do you support the Fuqua Annual Fund?
I support the Fuqua Annual Fund because Fuqua educated a young man with potential and helped to shape and mold him into a successful business leader.  I also give to the Fuqua Annual Fund because Fuqua has been a leader in ensuring that diverse business leaders are able to receive a top-notch graduate business education, and I want to help to invest in ensuring that the future pipeline of leaders continues to have this opportunity.
What does Team Fuqua mean to you?
Team Fuqua means developing quality lifelong relationships through our shared Fuqua experience whether we attended Fuqua together or not.  When I am describing Team Fuqua to others, I often highlight the fact that one of my best Fuqua friends is Antonio Hunter, Fuqua Class of 1997.  We never attended Fuqua together, but Fuqua events brought us together and we have become great friends.