Which Classes Use Computing Skills?
Virtually all coursework and many of your communications will require a computer. Spreadsheet skills in particular are critical for any course that involves quantitative work.
Computing Skills You Need
Familiarity with personal computing using a Windows type of interface (a mouse, menus, scroll bars, tool bars, dialog boxes, multiple open applications, etc.)
A good understanding of computer housekeeping tasks (folder and file management, hard drive organization, software installation, backups and archiving, virus protection, etc.)
Internet connectivity essentials.
Intermediate or better skills with word processing, presentation graphics, and web browser tools.
Intermediate or better ability using spreadsheet software to model and solve problems.
The Minimum Spreadsheet Skills You Need
In order to be successful using spreadsheet software in Duke's MBA programs, make sure you start your program already familiar with:
Editing

Entering and copying information.
Formatting (adding bolding, italics, colors, borders, etc.)
Efficiently selecting, moving, and deleting information.
The text-to-columns utility.
Text file import.

Analysis

Range naming and the uses of range names.
Finding and using functions in Excel's function library, especially logical functions.
Writing formulas and good formula design practices.
When and how to use absolute, relative, and mixed addressing.
Cross-worksheet and cross-workbook referencing.
Formula copying.
Familiarity with the Excel Analysis Toolpak.
Sorting and subtotaling.
Building and using Excel's Data Table (both one-input and two-input).
Excel's Goal Seek and Solver.
Scenarios.

Charting

Basic chart creation and customization.
Familiarity with the XY chart and when to use it instead of another chart type.

Printing

Print preview.
Printing a specific range or ranges.
Printing entire worksheets or workbooks.
Header and footer generation.
Pre-Program Preparation in Excel FOR ADMITTED STUDENTS ONLY
Before the program begins you're strongly encouraged to work through the pre-program exercises in Excel that will be available to you on the Incoming Student Website. The program preparation includes exercises that cover proficiency in Excel, the use of Excel for regression and statistical analysis, Excel charting, tools for efficient data management in Excel, and practice with Excel forecasting tools. The exercises are specifically designed to prepare you for basic Excel work in Duke's MBA programs. The materials assume you're using Fuqua's current standard version of Excel, Excel 2013, running in a Windows environment.
In addition to the Duke MBA pre-program Excel review exercises, consider additional review on your own of MS Excel 2013 spreadsheet concepts. Suggested resources are listed below.
Video/CD ROM Excel Courses
Excel Web Sites
Transitioning to Excel 2013
If you're transitioning to the 2013 version of Excel:
What's New in Excel 2013
Make the Switch to Excel 2013
Online Tutorials
Microsoft endorses these (and other) easily-accessible online Excel 2013 tutorials:
English is Not Your Native Language
If English is not your native language, you may want to review this article:
Do I need a language pack or language interface pack?
Keyboard Shortcuts
For a list of 2013 keyboard shortcuts, see this article:
Microsoft Excel Reference Guides
Microsoft Excel 2013 Step by Step
Publisher: Microsoft Press (March 26, 2013)
Language: English
ISBN-10: 0735681015
ISBN-13: 978-0735681019
Purchase the book on Amazon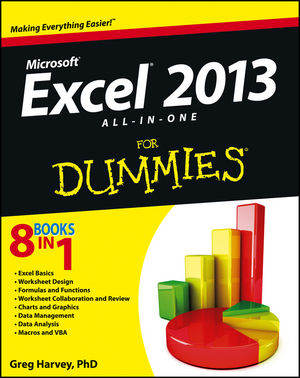 Excel 2013 All-in-One For Dummies
Publisher: For Dummies; 1 edition (January 29, 2013)
Language: English
ISBN-10: 1118510127
ISBN-13: 978-1118510124


Purchase the book on Amazon
Excel 2013 on Demand
Publisher: Que Publishing; 1 edition (March 4, 2013)
Language: English
ISBN-10: 0789750481
ISBN-13: 978-0789750488


Purchase the book on Amazon