MBA '06
In a challenging year of training during COVID and working full time, Erwan became the 28th Frenchman in the past 150 years to swim the English Channel. His completed time was 15 hours and 07 minutes.
What (or who) inspired you to take on the challenge of swimming the English Channel?
The inspiration was born out of a combination of two things:
The desire to keep my life exciting despite the COVID lockdown. The gyms were closed, the 5K running events that I used to do were canceled, etc. We all became still. I thought that because they couldn't close the oceans, I wanted to find a sport associated with it—that sport was open water swimming. To motivate myself to swim daily, I set a big challenge: swimming the English Channel in only one year.
Learning about the amazing athlete Sarah Thomas and her amazing accomplishment of setting a world record by swimming the English Channel 4 times nonstop in 54 hours! Her achievement really impressed me, and I became fascinated by the English Channel swim. It is such an iconic crossing—also called the "Everest of Swimming."
What preparation and training were needed for such an incredible feat?
The preparation was intense. I swam 881 miles and spent 579 hours in the water in one year. I was fortunate to secure a spot to swim the English Channel only one year in advance. Typically, swimmers need to book two to three years beforehand because each swimmer is assigned to a safety boat provided by the organizing entity, the English Channel Swimming Association. To go from 0 to 60 in only 12 months without much open water swimming experience was very intimidating. I had to find the best team possible, including:
Sarah Thomas - Open water marathon swimming coach and world record holder: I thought that if she could cross it four times non-stop, then she could coach me to cross it once!
Tony Robbins - Platinum Mental Coach: To swim 26 miles for 15 hours is primarily a mental exercise; it's you against yourself. There were a lot of ups and downs (actually more downs), and it required a yearlong mental preparation process, including visualization techniques and embodying a specific persona.
Marathon swimming nutritionist: Swimming in 60-degree Fahrenheit water without a wetsuit requires a lot of energy (~consuming 700-1000 calories per hour). Feedings occur every 30 minutes through a bottle tossed to me, as I am not allowed to touch the boat during the entire crossing. Each swimmer is different, and a lot of testing in drink types and volumes is required.
Stroke correction coaches: The adjustment to my technique started early on to avoid shoulder injury. It continued throughout the year and was continuously monitored to improve my stroke efficiency. Growing up, I never swam competitively nor learned the proper technique. Like any language or musical instrument, it is much more difficult to learn as an adult.
Two coaches in masters' swimming sessions: It was my 5:00 am routine during that year to train in a pool and have drill sessions. This was the "lab" where I would continuously practice.
Two massage therapists: With the swimming volume increasing progressively throughout the year, I had to maintain my physical wellbeing to avoid injury. Each week, I had two massages, and they were more like "torture," but required.
One physical therapist: One month before heading to the UK to swim the English Channel, I injured myself after an 8-hour swimming session in the open water. My left shoulder blade was hurting, and I had to see a therapist to fix it just before the big swim.
One on-boat coach for the English Crossing to provide feeds and management: This support was very important in order to adjust my feeds and to provide the right words to encourage me.
Countless new swimming friends: During the entire journey from San Francisco to reaching the shore in France, there is something magical about swimming in cold water…everyone is in a great mood after swimming!
And of course, my family and my partner, Sophie!
I am grateful to have had this team, and I enjoyed every day of the journey. It was a lot of hard work. At the end of the training, I had to swim 55 km per week, about three and a half hours per day in the water, and six days a week. I gained 15 pounds to be able to handle the 60-degree water for long periods of time.
What sort of things go through one's mind when in the middle of the channel?
I actually didn't know when I was in the middle of the Channel as I intentionally remained unaware of where I was, how long I was swimming, and how much time remained. It was important to be in the moment, be in "the zone," this meditative state that swimmers experience with the repetitive motion of swimming. The key was to not think about how much more I had to swim, which would only cause torment and trigger "quitting thoughts."
Were there any unexpected challenges, or did everything proceed as planned/expected?
I started the swim at 3:07 am, and I was immediately challenged due to the cold environment. The water temperature was 60 degrees, which was similar to what I experienced during my trainings in the San Francisco Bay. However, the air temperature was much colder than any I had ever trained for; it was only 45 degrees! The wardrobe rule to cross the English Channel is to only have a speedo/goggles/swim cap (no wetsuit). So, I was very cold from the beginning. It was also pitch dark. I never swam more than eight hours during training, and I knew I was about to swim for potentially over 18 hours that day. The end of the swimming season to cross the channel is the last week of September. I should have swum around September 27th, however, the weather conditions were bad, so I had to wait three weeks and swim on October 13th. This meant that the nights were even longer and the temperatures colder.
On the day of my English Channel crossing, the cold was zapping my energy, and I felt extremely uncomfortable. I thought I would stop after one hour and then again after three hours. I was looking at my team on the boat, and all of them were wearing heavy winter clothes with warm hats while I was in my speedo in this cold environment. As I swam eight hours in training before, I decided to give everything I had to swim at least eight and a half hours and then stop. When eight and a half hours arrived, I spoke to my team on the boat and said that I didn't have the energy left. I have never felt that bad in my life. My mind wanted to stop. My coach on the boat then adjusted my feeds. He gave me energy drinks that I had never tested before in practice to provide a much-needed boost. I received flat coke with three large spoons of sugar. I would become diabetic drinking this on a normal basis, but swimming the English Channel is not normal. It created a significant exothermic reaction in my body, and I started to regain a bit of energy. I was still miserable, but I was okay. My arms kept moving. I stayed in the present. I visualized arriving on the beach. And when my mind kept going into dark places, which encouraged me to quit, I would use some pattern interrupt techniques such as counting from 1 to 100 over and over again.
I expected to feel better at sunrise after swimming for four hours in the dark; unfortunately, it didn't feel warmer. I then kept my night-clear goggles on instead of switching to daytime goggles so I could flood my eyes with sunlight… the only natural source of energy.
The energy drinks I could drink every 30 minutes were warm, but because of the tide, I couldn't stop for more than 30 secs to drink 8 oz, or I would drift too much from the boat. I couldn't drink it all, making me calorie-depleted and more susceptible to the cold.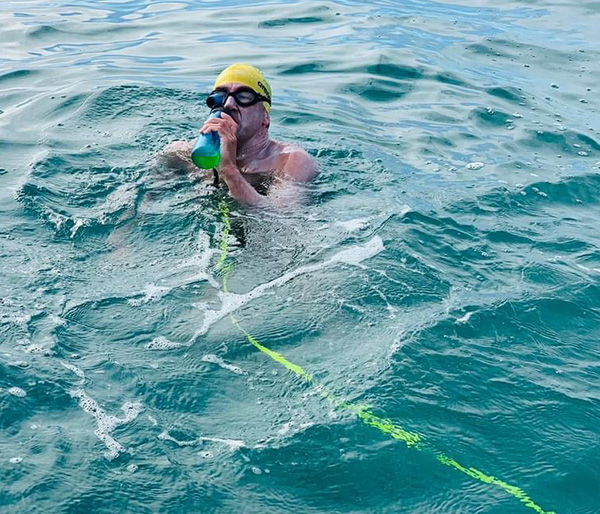 Then I had to face the challenge of swimming for more than eight hours. I never did more than this during training. I didn't know how my body and my mind were going to react. Would I get seasick, which is common among swimmers? Would I get cramps? Would I get hypothermia? I had to deal with many unknowns. I asked my team to never tell me where I was in the Channel, how much longer I had, etc. unless I asked. I was exhausted, and when I looked straight, I would only see the horizon with no France insight. During practice, I never swam without seeing the land on destination. That was when I had to tackle this mental challenge and use various meditation/visualization techniques.
During the last few miles of the swim, there is a zone called the "swimmers' graveyard" because the lateral currents are stronger, and they cause many swimmers to quit. At that time, I was so mentally exhausted that I just kept going and tried to remember all the advice from my coaches during the year to just be as efficient as possible.
During that last mile, I started having cramps in my legs, and as the night was falling around 5:00 pm, I accelerated to avoid swimming in the dark and feeling cold again. I had been swimming since 3:00 am, and I didn't have the energy to swim again in the dark. So, even though cramps were coming, I started to accelerate and give it everything I had left in me.
How did the pandemic and changing global landscape affect your endeavor?
In a way, COVID helped. The pandemic actually provided the right circumstances to prepare for swimming the English Channel. I didn't have to commute every day to work and back, which took three hours each day, and I decided to use that time to train for crossing the English Channel.
I got lucky to have a spot that quickly to swim through the governing organization: the English Channel Association. One of the supporting boats told me I could have had slot four for the last week of the year. During the assigned weeks, swimmer one from slot one goes first, assuming the weather is good, then another day of the week is slot two, etc. As the weather is hectic at the end of the season, it was very unlikely I could swim with a slot four. I still signed up to keep this big goal and training going, and I thought that if someone canceled, I could move to an earlier slot. Fast forward eight months, and I ended up on slot one as all swimmers canceled that week due to COVID.
Another challenge was that most pools were closed due to COVID or had significant restrictions. During the winter months, I had to find a pool in a Napa resort to do my longer 10 km swim practices. However, I could only access the pool after having a spa treatment scheduled first!
Reflecting upon the experience, what is your biggest takeaway or lesson learned?
There are several big lessons:
The importance of having a complete and diverse team with the best skill sets. Swimming the English Channel is like running a startup; it is the entrepreneurship of the self. It is a solo sport, but like any company, it succeeds if all the departments work well (marketing, operations, R&D, etc.). If one of the members of my team was not present, I could not have finished. Period. The mental coaching for the entire year, the challenging swimming training from Sarah Thomas, the nutritional plan, the adjustment with my on-boat support, the physical therapist who fixed my shoulder one month before the swim, my stroke correction, etc. They were just the best of the best that I could find. Assembling the team was hard work and sometimes required a bit of luck, but in the end, it was the reason I could finish this swim.
It's possible to go beyond hard limits. During the swim, I never experienced a low that low. I would have quit on any normal day. I assumed I would hit a wall, and I actually hit three walls! The key was to keep moving and smash those walls.
Defining a goal bigger than myself to serve others. If the crossing was just for me, I would have likely quit. I did it to motivate others to achieve their goals and push their limits (a documentary is coming). In addition, one of my goals was to reach France to pick up a pebble on the beach and bring it to my Mom, who is currently experiencing some health challenges.
You don't need to be the best in your field to achieve big goals. I was not a swimmer growing up. Yet, as an amateur, I decided to train for the English Channel. Some of my swimming coaches told me they felt bad charging me in the beginning because it was such a long shot. On average, swimmers take 13.5 hours to cross the English Channel. It took me 15 hours and 07 minutes, and I am grateful to be the 28th Frenchman to swim it in 150 years.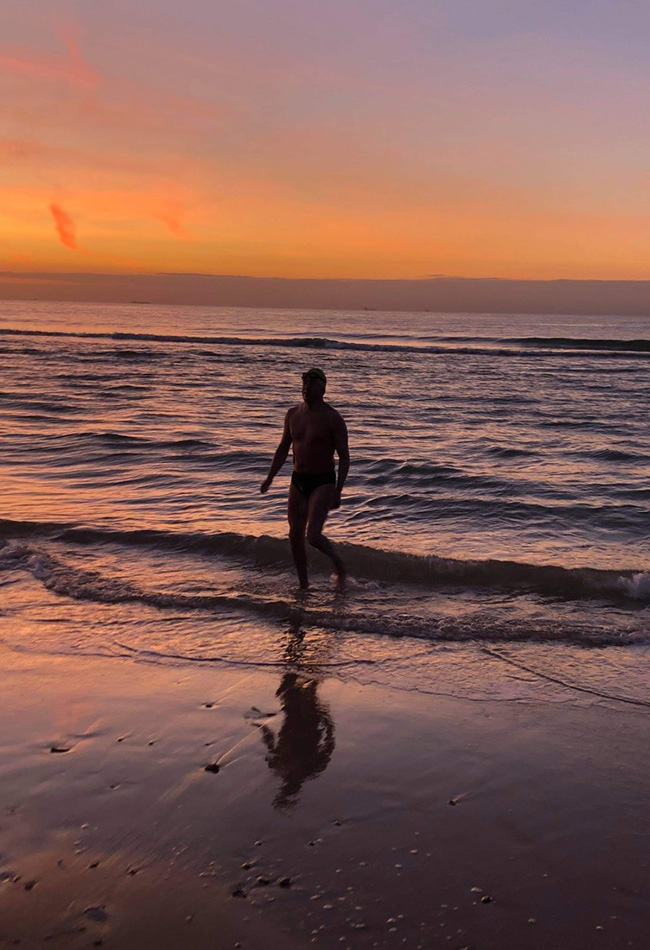 Would you do it again?
If I had to go back and do it all over again, I would, but I don't plan to swim it again in the future! The journey leading up to the crossing was amazing. I was enjoying swimming and meeting the coaches and my swimming friends every day. The day of the crossing was just indescribable. I never had such a high amplitude of emotions. I was so close to giving up in the Channel that it made the landing in France even more magical. I cannot describe how special it was to feel my feet touch the sand. My Dad was waiting for me there with a small welcome committee. It took me 10 seconds to recognize him as I was exhausted beyond exhaustion. Every second of the journey was worth it.