MBA '06
Senior Vice President, Transformation
What do you do professionally?
I am the head of the transformation office at ATI Physical Therapy. ATI has grown fast over the last many years and now has 700+ clinics in 25 states. The culture is very entrepreneurial and fast paced. There are many awesome things about the culture and the organization, one challenge though has been 'shiny object syndrome.' Leadership would often get excited about new ideas and then be challenged with follow through due to a lack of prioritization and a need for more formalized project management. I started at ATI seven months ago and have built a new department—the Transformation Office. The 'TO' is responsible for helping ATI determine strategy, prioritizing strategic initiatives and ensuring follow through and delivery of prioritized strategic initiatives.
What is the most enjoyable part of your job?
I love bringing new capabilities to organizations and building new functions. I've done this in other organizations; what makes ATI so enjoyable though is the culture and the people. It's a work hard/play hard type of place and very high energy. In addition to being a fun place to work, there is the added benefit of working for a company that helps people get back to their best selves after an injury.
What is the biggest challenge you face?
I love building new functions in organizations, but it's not always easy. Building credibility early on for yourself and for the new function/team you are building is critical. A new function and a new capability set for an organization means change. Change is always hard-investing in early wins and in relationships up front is key to ensuring you can help lead through the change.
What sorts of interesting places has your position taken you? Do you have a favorite?
I used to travel a lot when I was in consulting, I sometimes miss those days. In my current role, I don't travel much. I do love to travel though for fun and to pursue my passion for landscape/nature photography. I went to Antarctica at the end of 2016 and have some fun trips lined up for 2017 and 2018 so far.
What is the best professional advice you've received?
Take opportunities when they come, even if (really especially if) they feel intimidating. Growth happens when we challenge ourselves.
Aside from your current role, what is your dream job?
I love what I do, it's pretty close to my dream job. That said, I love teaching, traveling and photography. My dream job would probably be landscape photography instructor-it would enable me to travel to places that most people don't get to go to, be outside most of the time, share a passion of mine with others, and capture and share images of our beautiful planet.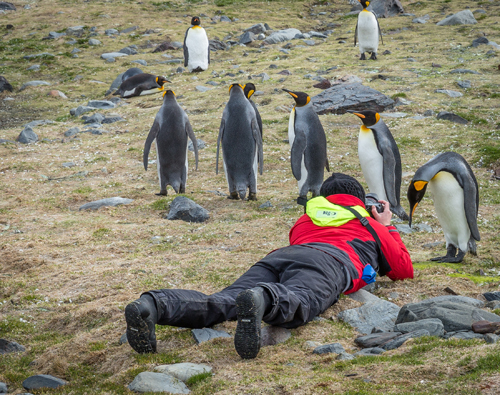 What do you like to do outside of work?
Outside of my passion for photography and travel, I love spending time with my husband and five dogs (yes, five!), spending time with friends, doing yoga and exploring the Chicago restaurant scene
What is the most important thing you learned during your time at Fuqua?
I learned a lot of tangible business skills at Fuqua. I think though the most important thing I learned is the importance of building strong networks. It's amazing how small the world really is, especially as you move deeper into an industry.
Who was your favorite professor?
David Robinson. In addition to teaching Entrepreneurial Finance, which was a great course, he also led our GATE trip to Cuba. It was the last trip to Cuba at that time due to visa challenges, and it had a lasting impact on me.
What is your favorite Fuqua memory?
So many to choose from…I would have to say campout. That's about all I should probably say. :-)
Why do you support the Fuqua Annual Fund?
I support the Fuqua Annual Fund because Fuqua is a really special place, and I want to play a role in helping others experience and benefit from it.
What does Team Fuqua mean to you?
As a member of Team Fuqua, you get the privilege of meeting, learning with and having fun with some of the most kind, talented and outstanding individuals you will likely ever meet. As a daytime student, you get to spend 2 intensive years with them and it makes for lifelong bonds and friendships. Even 11 years later, I regularly reach out to classmates to get their thoughts and advice on career and life.