A Fuqua Family: Rebecca Yu MBA '11, Chris Kearney MBA '12, Herbert Yu MBA '14, and Stephanie Yu MBA '15
Four employees from Google, Bank of America, PepsiCo, and Deloitte walk into a room. This may sound like the setup to a joke, but it's actually serious business. Aside from all having a degree from Fuqua, these four are also family!
Enter Rebecca Yu, a Vice President at Bank of America and member of the Daytime MBA Class of 2011. While she was the first family member to attend Fuqua, business school wasn't always her ambition. "When I was little, I wanted to buy a farm and rescue dogs and cats! Which quite possibly could be an option when I eventually retire," Rebecca commented. "I do think we were all somewhat interested in the world of business when we were little. We had numerous lemonade stands, and Stephanie and I were in the friendship-bracelet making business at the tender ages of eight and five."
Like so many others, Rebecca chose Fuqua because of the people. "I attended Blue Devil Weekend and was just blown away by the sense of community and genuine love everyone had for the school, for Durham, and for their peers. I just knew it was the place for me to learn, grow, and thrive. I left BDW beyond excited about what the next two years would hold," she added.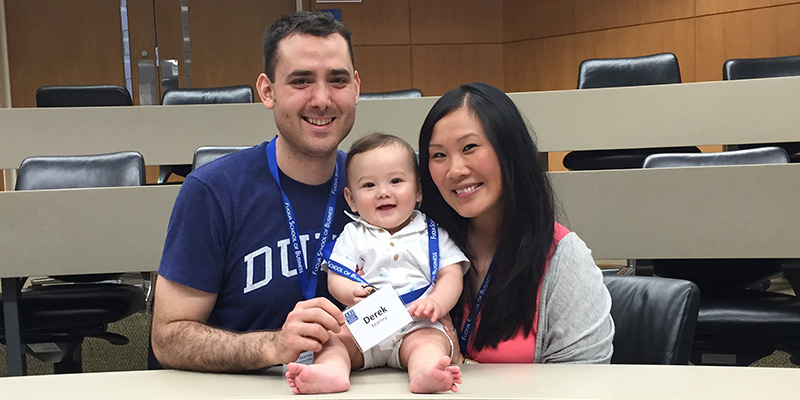 As for advice to her family members on attending Fuqua: "I told them that they should go to whichever school they felt was the best fit for them…but as their older sister, I knew Fuqua was where they should be. Seriously—I said that," Rebecca laughed. "I had a wonderful experience and wanted the same for Herbert and Stephanie, too."
Now a management consultant for Deloitte, Herbert Yu is a member of the Daytime Class of 2014. His eye wasn't always on business school either, as his childhood dreams were more related to building and breaking things than business. "I was pretty handy with a screwdriver and enjoyed removing all of the electrical outlet covers in the house, to my parents' horror," Herbert reminisced. "Fast-forward 15 years, and I was designing drones for the U.S. Navy and Air Force before I attended Fuqua."
Indeed, Herbert had been convinced. Hearing so many stories from Rebecca made his decision to come to Fuqua easy. "I chose Fuqua because it was an institution with academic prestige and team culture in a non-destination city—the latter was important to me because I knew it would help foster a strong personal and professional network. As a humorous bonus, Rebecca was featured on the cover photo of Business Insider's 'Best Business School Parties,' so that was icing on the cake."
Rebecca and Herbert's sister, Stephanie Yu, then graduated in the Daytime MBA Class of 2015. A sales development manager at Google, her adolescence came with a variety of ambitions. "I think I was a dreamer from a young age—from veterinarian, to doctor, to singer, and so on. I have an awful voice, just FYI," Stephanie joked, "but I always had a knack for the business world. We took on the childhood neighborhood and made hundreds of dollars going door-to-door selling lemonade."
"I also visited Rebecca when she was at Fuqua and saw what a community she had," Stephanie said. When she was ready to embark in the next step of her career and apply to business school, her brother Herbert was in his first year at Fuqua. Yet, his presence was the one reason she didn't want to be a Dukie. "I wanted my own experience. But when I visited, I immediately connected with others at BDW. I felt at home. Once I was at Fuqua, I realized having him there was such a blessing and made my experience that much better. We became closer than we have ever been," she explained.
However, the family ties didn't stop there. Along the way, brother-in-law Chris Kearney, an employee of PepsiCo within Gatorade's financial planning and analysis unit and spouse to Rebecca, also earned his Daytime MBA in 2012. "Growing up in New York, I always wanted to be the GM of the Yankees or Knicks as a kid, but I eventually found myself in the financial services industry in New York after college and then in corporate finance in Chicago after Fuqua," he said.
"Chris and I actually met at our first job at Standard and Poor's Capital IQ right out of college. He sat two seats over from me. We both knew we wanted to go back to school to get our MBAs," Rebecca reflected. "He got to see what an awesome experience Duke was when he came to visit me, so then he applied for the following year. Chris started in August 2010, so it was a great for us to share our Fuqua experience for one year."
Chris was pulled in by the quality of people on campus. "Teamwork and collaboration were the cultural backbone and no one took themselves too seriously—the academic reputation spoke for itself and there was a work hard, play hard mentality," he said.
While they all agree there were many similarities in their incredible experiences at Fuqua, Herbert noted a main difference was in the rapid construction of apartments, restaurants, and hotels in Durham, and perhaps more importantly, that "the introduction of Harris Teeters turned everything upside down."
Their similar core experiences meant coming away with many shared beliefs: Invest in people. Be open-minded. Listen more and find a commonality. Live every moment. "To me, Team Fuqua means being the best version of yourself through passion for what you do and the people you are with," Herbert reflected. To the Yu-Kearney family, Team Fuqua meant collaboration and partnership, a community and a home you can always come back to. It is support, openness, transparency, and kindness.
"It is something I strive to 'do' every day," Stephanie added.
Outside of Fuqua, their commonalities stretch far and wide: A love for traveling, family, dogs, cooking, and good food in general, just to name a few. And, of course, Duke basketball. "We text furiously during Duke basketball games. Usually, Chris and I say, 'Don't tell us the score! We're recording the game and will watch it when the kids go to bed!'" Rebecca exclaimed. Their toddlers, Derek and Jackson, are two balls of energy that already know how to say, "DUUUUUUKE!" whenever Duke basketball is on TV. Future Dukies as well, perhaps?
While fortunate enough to always have been close, the shared experience of attending Fuqua has added a dynamic layer to the family relationship. "Rebecca and her siblings have always made me feel like family, but attending Fuqua has given us another memorable experience to share," Chris said.
"Going to Fuqua has certainly brought us all closer together," Herbert confirmed.
Stephanie agreed with her family: "We're as thick as thieves."